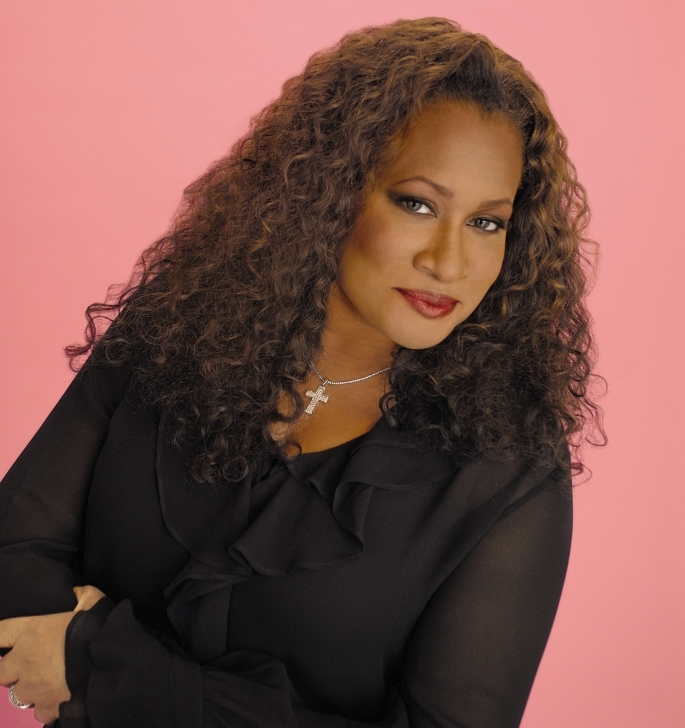 Michelle McKinney Hammond has traveled the world over sharing amazing insights on Living, Loving and Overcoming. Her heart beats to share life-transforming truths with men and women alike. From women's conferences, to corporate settings, to church services Michelle engages her audience with stories and principles that meet them where they live. She connects to their life issues and empowers those listening to shift their thinking and effect positive change in their lives and relationships.
Michelle would love to be a part of your event. Or host a
D.I.V.A (Divine Inspiration for Victorious Attitude) Day for you! Simply click on the booking page for more information.
Diva Conference
About:
A D.I.V.A. (Divine Inspiration for Victorious Attitude) Day or Weekend Getaway is an opportunity for a limited number of women to join Michelle McKinney Hammond for a personal encounter with yourself, God and others in pursuit of acquiring a victorious attitude.
You'll be challenged and inspired to take a look within and to assess how internal
issues can lead to either failure or victory in your life, while giving you the tools you need to make the right choices.
You will come away from this weekend refreshed spiritually and renewed
emotionally, with practical knowledge, new friendships and the knowledge you need to truly transform your life!
D.I.V.A Day
A day of worship, reflection and empowerment. Through the vehicle of a day long interactive workshop attendees will dig deep to get to the root of the issues they need to face in order to live and love to their fullest God given potential.
Renewal Weekend:
This first introduction to the D.I.V.A. Weekend is all about reflecting, redefining your life choices and embracing life beyond this weekend with a refreshed and renewed attitude. Want to know what's keeping you from making victorious decisions for your life? You won't want to miss this weekend!
Singles Weekend:
This weekend is for any woman who is single or who finds herself single again as a result of divorce or loss. This weekend is all about you — the total woman, living victoriously on every level — and focuses beyond just getting a man to being the total package, the "good thing" God promised! We're all about breaking old mindsets and habits that keep you from living the life you want and getting the love you need.
Ultimate Weekend:
This weekend takes your life to the next life. It's all about assessing where you are presently and making decisions that will shift you to the next level. Reflection, interaction and making realistic assessments that help you clarify your strategy for living the life you want and getting the love you need.
Michelle would love to be a part of your event. Or host a D.I.V.A (Divine Inspiration for Victorious Attitude) Day for you! Simply Click Here for more information.
Testimonials
"This weekend taught me how to have a divine relationship with God, to please God first and that each and everything else will fall into place."
"After this weekend, I will remove obstacles that hinder me from being the Diva I'm meant to be."
"I have a new attitude about my life and how to live it. I've learned to stop focusing on myself so much and focus on others."
"I am reenergized to commit all of myself to God."
"This weekend was about inspiration and thought-provoking questions that will help me to follow a victorious life!"
"I gained so much self-awareness. This has been an awesome experience!"
"After this weekend, I will envision the life that I desire. I don't think I ever took the time to do it before."
"I have learned to love God and be the woman that God wants me to be."
"I've been to many women's conferences I have never left any of them feeling as full as I do right now."
Host your own Diva Day
Host a Diva Day or online Diva Principle Masterclass with Michelle McKinney Hammond, author of over 40 books including her bestselling title, The Diva Principle, Divine Inspiration for Victorious Attitude!
After witnessing the tremendous transformations taking place at the Diva Conferences hosted in Chicago that had women traveling from cities ranging from Seattle to London, Michelle has decided that this very special experience must be shared with groups all over – including yours!
The Diva Day is designed for every woman, whether single or married, to get the breakthrough she has been longing for and the life she was created for. This is not a normal sit – down conference! It is a day of doing the work, digging deeper and answering the questions to find the keys to attaining personal victory.
To find out how you can host a D.I.V.A. Day or Weekend
Click here or email admin@michellehammond.com or call 312-450-7175 for more information.